Mary J. Blige, Ella Mai and Queen Naija make all-too-relatable songs. They go through similar joy and pain tied to love, selflessly extending deep levels of vulnerability that resonate with their devoted audiences.
That simple formula may be why the reigning Queen of Hip-Hop Soul invited the new R&B divas to join her Good Morning Gorgeous Tour, presented by Hologic and powered by Black Promoters Collective. (The latter company, composed of six national independent concert promotion and event production companies, recently succeeded with Maxwell's NIGHT Tour and New Edition's The Culture Tour.)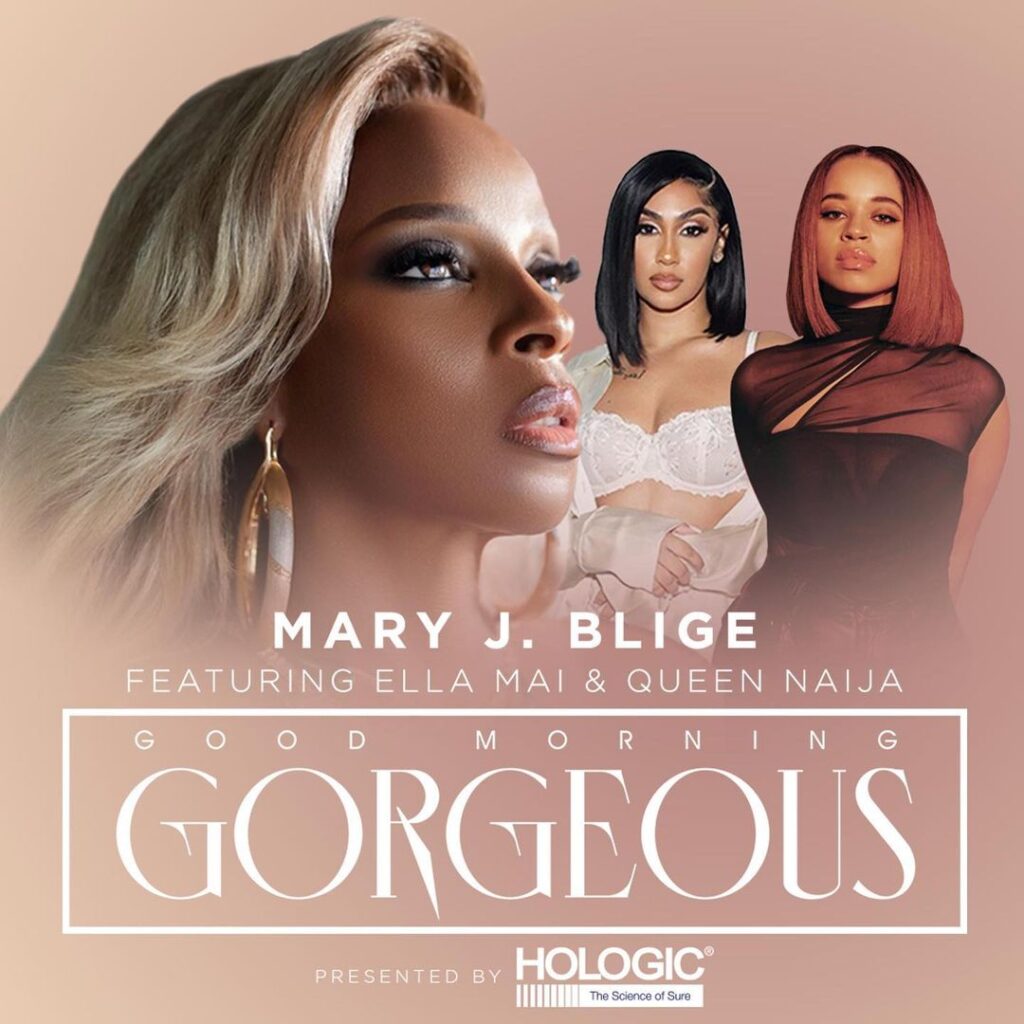 Two successful East Coast stops later, the nationwide trek set up shop on Wednesday (Sept. 21) at the Spectrum Center in Charlotte, North Carolina.
After exiting the LYNX Blue Line light rail at the CTC/Arena Station, hundreds of fans are spotted, dressed in their best, lined up at multiple entrances in the humid 85-degree weather.
With lines moving swiftly, I make it into the venue and to my seat within the Lounge North section in under 15 minutes.
There, I see an updated Hologic infomercial featuring a radiant Blige speaking to women, particularly Black woman, about the importance of health screenings for breast cancer. It wouldn't be the only time it ran that night, reaching a new wave of concertgoers that filled in until her set.
View this post on Instagram
As early supporters take their seats, DJ Skillz, the self-proclaimed curator of dope vibes, hypes them up with a nice mix of R&B joints, including Adina Howard's "Freak Like Me," Usher's "Hey Daddy (Daddy's Home)," and T-Pain's B.o.B.-assisted "Up Down (Do This All Day)," to name a few.
Power 98 WPEG's Vonyetta joined DJ Skillz in the booth. She takes the mic and reps for the ladies, adding Keyshia Cole's "Let It Go," featuring Missy Elliott and Lil' Kim to the playlist.
But before the impact of Cole's classic could see its enduring effect on audiences, it's cut short as the lights dim at 8:02 p.m. for Queen Naija.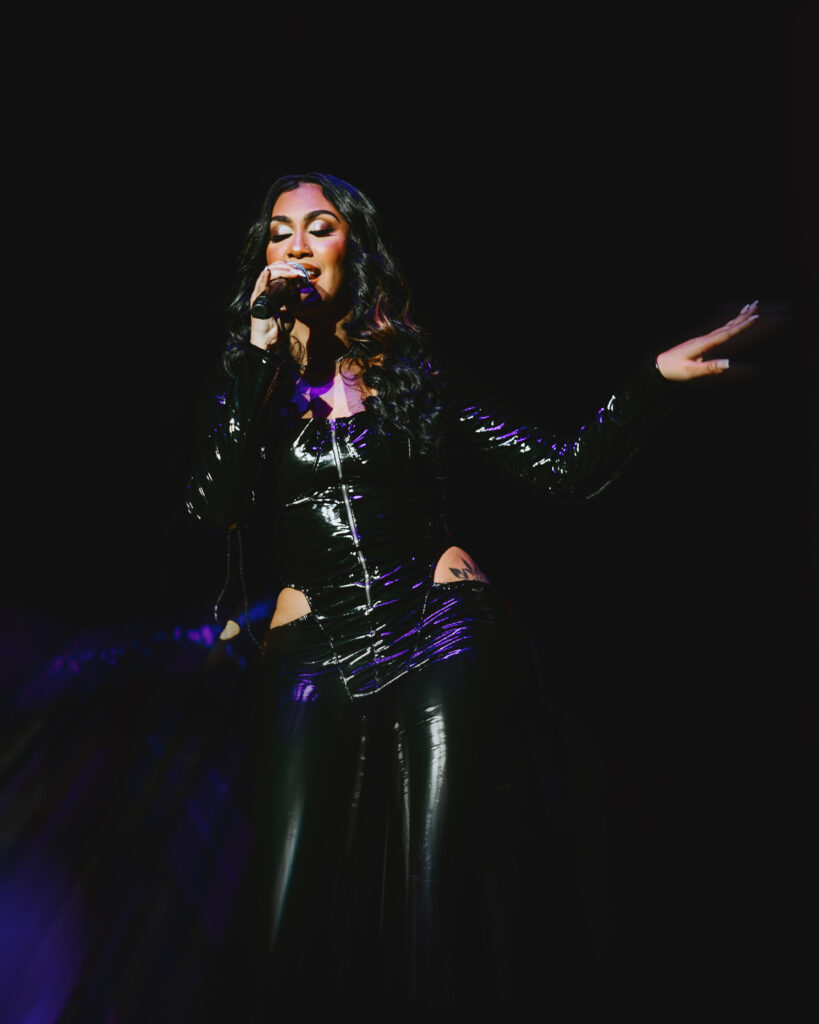 Before the R&B sensation hailing from Ypsilanti, Michigan, sings a single note, the beginning of JAY-Z's "Song Cry" peeks through the on-stage speakers.
Styled in a black latex cutout bodysuit, Naija arrives on stage to the sound of the audience cheering with "Hate Our Love," her current single that features Big Sean.
Her call-and-response requests for the hook of her fourth No. 1 R&B hit were accepted without delay, as her four female dancers bring the moves.
"Y'all ever tell a n***a to go pack lite?" Naija asks the onlookers before performing the Erykah Badu-inspired "Pack Lite" from her 2020 debut album Missunderstood.
Naija transitions to "What's My Name," the Fivio Foreign-led track, on which she appears alongside Coi Leray. The R&B starlet is clearly having a blast on stage, even gyrating her hips.
Going behind the mic-stand for the first of the set, she gives the nod to "One Time," lifted from her 2018 self-titled EP.
Following "Butterflies, Pt. 2," which she declares her "favorite song," Naija dives back into her self-titled project, singing a pair of deeply personal songs, including "Karma" and "Medicine." The latter marks her most heartrending vocal performance that evening.
For the finale, she revisits her Missunderstood LP for "Lie To Me," rapping Lil Durk's verse with gusto.
DJ Skillz and Vonyetta return behind the ones and twos, celebrating female-ruled jams by Beyoncé ("Get Me Bodied"), Eve ("Tambourine") and Sunshine Anderson ("Heard It All Before").
Watching the dedicated reaction of women from all corners of the arena to the latter 2001 classic proves that R&B will always be part of the culture.
Up next is Grammy winner Ella Mai. As a flood of phone torches get raised for her arrival, studio footage of Mai and Blige appears.
Mai guides her idol on the direction to take for the outros of songs from Heart On My Sleeve, her sophomore album.
After this, Mai walks onto a stair platform, wearing an oversized lavender jacket and matching-colored one-leg catsuit. Wasting no time, she opens with the glossy "Not Another Love Song."
Welcoming and introducing herself to the fans who piled into the Spectrum Center, Mai set sights on a trio of songs from her latest album, released in May.
Between the sexiness she flaunts during "Feel Like" and the tranquility for "Break My Heart," it is undeniable that she had her mic on.
"Five years ago, I released a single that changed my life," Mai says after the fourth song, "Leave You Alone." That tease prefaces "Boo'd Up," her breakthrough 2018 single. Again, she has the majority of concertgoers out of their seats, singing all the words.
Another crowd pleaser is "Trip," a big hitter from her self-titled debut. Here, she and her background singers lightly sprinkle in some choreography, patting themselves on the shoulders when she let out, "My bad, my bad for trippin' on you."
Before Mai closes her set with "DFMU," a No. 1 single from the new album, she affirms that "R&B is very, very much alive."
DJ Skillz posts up again at his station, spinning more R&B oldies in anticipation of the tour's matriarch. Tevin Campbell's endearing love song "Can We Talk" garners the healthiest crowd participation.
Approximately 20 minutes later, the lights lower.
Before Blige enters the stage, a prerecorded clip of her appears on the jumbo screen. She is seated in a makeup artist's chair, getting glam to take the stage.
Defining moments that chronicle the past and present of her illustrious career intercut the well-produced film.
It's not long before fire theatrics and the thundering horn blasts from the DJ Khaled collaboration "Amazing" swell the arena.
Blige makes quite an entrance to the stage, or throne, wearing a hot pink corset and matching shorts and boots.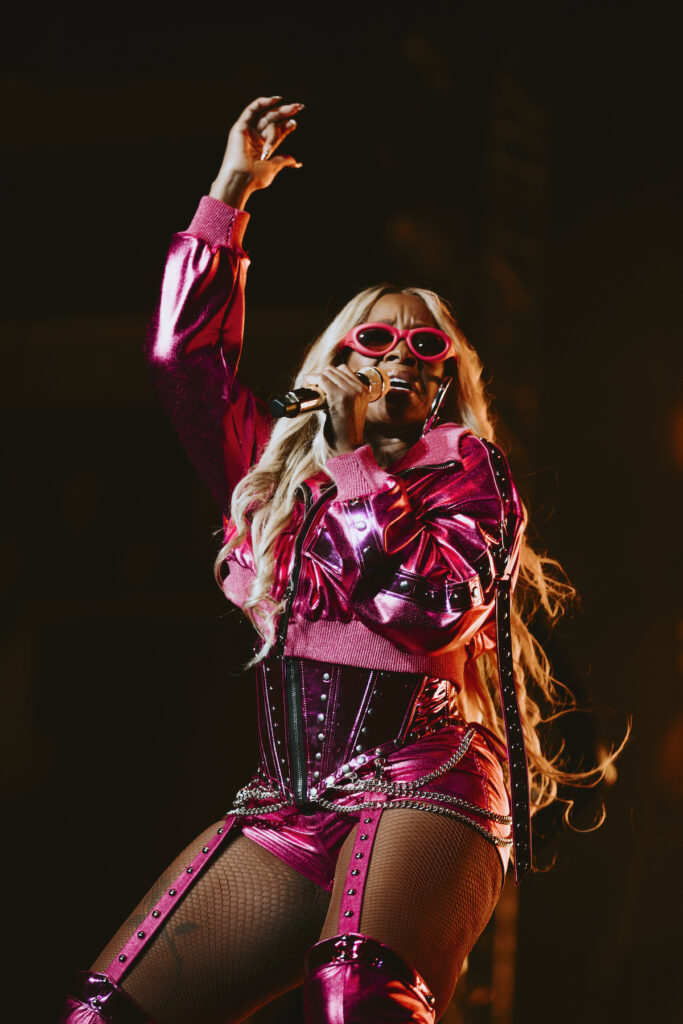 As the flames on stage bake faces of those close, an almighty Blige struts with confidence, in particular on the song's second verse, "My crib is so big, I tell the guests to use a map / He wanna play house, I ask him, 'Where's the fun in that?'"
She keeps the energy high with the militant "On Top," asserting her dominance as one of music's most consistent R&B icons. Her tightly-choreographed male dancers make her look even more fierce.
Blige knows her audience and moves away from her newer material to lean into her more recognizable hits.
"How many of y'all want to see the Mary J. Blige dance," she asks the question before she goes into "Love No Limit (Remix)." She adds, "Y'all know how I do. I keep it real ghetto," ahead of doing her iconic Mary bop.
Refueling her soulful voice with water after "Mary Jane (All Night Long)," she returns to the Good Morning Gorgeous album cycle, performing "Rent Money." Her signature dance moves don't just make an appearance here, but also some twerking that boasts her homegrown wagon.
At 51, Blige's live stamina couldn't have been better exhibited than the onset of the "Reminisce (Remix)," where she does a high jumping kick.
Again, Blige is reliant on the timelessness of her discography, ending midway through to change into her second of four costumes.
For the second half, the core of the retrospective setlist is devoted to heartfelt confessions, primarily for and about women. It also is dedicated to her Good Morning Gorgeous album.
Blige, dressed in a black satin outfit decorated in silver trimming, comes up from the stage on a gold divan couch. She digs deep on the self-admiration anthem from her latest record, which she co-wrote with H.E.R. and Luck Daye.
I said I wasn't gonna cry, but I'm crying for joy. – Mary J. Blige
Blige shades in more blue hues with "Love Without the Heartbreak" and "Mary's Joint." Not enough people seem to know songs like "Failing in Love," but it doesn't discourage her from putting on a deeply satisfying performance.
But what does unite Blige with the crowd is the dramatic rendition of "Not Gon Cry." She lets loose, embodying some gospel vocal tricks that eventually bring her to tears. But her weeping didn't flow from tearful heartache.
"I said I wasn't gonna cry, but I'm crying for joy. I'm crying 'cause I'm free. I'm crying 'cause it's over," she says before letting out a scream.
From "Everything" to "Share My World," Blige is seen performing those fan favorites behind a curtain screen that projects beatific images.
She ends this portion of the show with a scorching delivery of "My Life," leaving the stage to change and giving the floor to her guitarist to let loose for a solo.
Blige returns for the fourth and final round, the most empowering. Posing boldly amid multi-colored lights, Blige goes into "Work That," a self-loving tune that saw a resurgence from Vice President Kamala Harris in 2021.
But, for "The One," Blige isn't finished shaking her rump. She does so during chorus two of the Drake-assisted track, blending Mr. Cheeks' "Lights, Camera, Action!" into the autotune production.
What better way to end the concert than with The Breakthrough's "MJB Da MVP." A rain of pyrotechnics erupts in the background. At the same time, confetti cannon explodes into the thousands of supporters cheering and singing along with the Oscar-nominated singer and actress.
It's worth noting that Blige did pay homage to her once-forgotten Love & Life album. And even though she did perform concert staple "No More Drama," her most-prized reenactments of the show-stopper were documented in a video package.
More unexpectedly, Blige gives an impassioned vocal tribute to "Beautiful Ones" from the Mary album and shows love for idol Anita Baker's "Caught Up in a Rapture" during the third section of the set.
In a year that's included an Emmy-winning Super Bowl Halftime Show performance, a new album and TIME influential people feature, Blige assembled two of her R&B offspring, Ella Mai and Queen Naija, to set a new bar for an all-women tour. Bravo.
Mary J. Blige's Upcoming Good Morning Gorgeous Tour Dates
Sep 24 — Detroit, MI @ Little Caesars Arena
Sep 25 — Chicago, IL @ United Center
Sep 28 — Birmingham, AL @ Legacy Center at The BJCC
Sep 29 — Atlanta, GA @ State Farm Arena
Oct 01 — Houston, TX @ Toyota Center
Oct 02 — Ft. Worth, TX @ Dickies Arena
Oct 06 — Oakland, CA @ Oakland Arena
Oct 08 — Las Vegas, NV @ Mandalay Bay Resort & Casino
Oct 09 — Inglewood, CA @ Kia Forum
Oct 12 — St. Louis, MO @ Enterprise Center
Oct 15 — New Orleans, LA @ Smoothie King Center
Oct 16 — Memphis, TN @ FedEX Forum
Oct 19 — Cleveland, OH @ Rocket Mortgage FieldHouse
Oct 20 — Brooklyn, NY @ Barclays Center
Oct 22 — Hampton, VA @ Hampton Coliseum
Oct 23 — Newark, NJ @ Prudential Center
Oct 26 — Nashville, TN @ Bridgestone Arena
Oct 27 — Cincinnati, OH @ Heritage Bank Center
Oct 29 — Atlantic City, NJ @ Boardwalk Hall
Get tickets for Mary J. Blige's Good Morning Gorgeous Tour here.